Mammo (1994) a film by Shyam Benegal is the first film of Muslim trilogy including Sardari Begum (1996) and Zubeidaa (2001). Winner of National Film Award for Best Feature Film in Hindi and Filmfare Critics Award for Best Performance by Farida Jalal and National Film Award for Best Supporting Actress by Surekha Sikri.
CAST AND CHARACTERS
• Farida Jalal — Mammo
• Surekha Sikri — Fayyazi
• Amit Phalke — Riyaz (Teenager)
• Rajit Kapoor — Riyaz (Adult)
• Lalit Tiwari — Riyaz's father
• Himani Shivpuri — Anwari
• Shrivallabh Vyas — Sabir
• Sandeep Kulkarni — Inspector Apte
• Salim Shah — Taxi Driver
CREW
Direction — Shyam Benegal
Production — Raj Pius
Story — Khalid Mohammed,
Shama Zaidi,
Javed Siddiqui
Music — Vanraj Bhatia
SYNOPSIS / OBSERVATION
A poignant tale that warms up and captivates many hearts through its simple look at life and the many experiences it has to offer; especially, post India-Pakistan partition period. This film is layered with fleeting instances of subtle grievances endured by each character as they recall and/or reflect upon their individual past and present "realities". Everyone has a story to tell. Mammo is no different. She personifies the many highs and lows that life throws at one. The character of Mehmooda Begum, fondly known as Mammo (Farida Jalal), leaves her family and home behind. Why? For the sake of love, her husband for whom she embarks on a new journey to an unfamiliar place, Pakistan. They lead a happy life together till her husband's demise leaving Mammo helpless and lonely.
It is in his realistic and understated approach through which Shyam Benegal manages to rouse a sense of anticipation in his viewer in regards to how the story will eventually unfold. The director's raw depiction of each character and portrayal of either light or grave scenario is dealt with the utmost sensitivity.
Upon Mammo's unexpected return back to India in order to stay close to her kin, the chief plot unravels from the perspective of a young protagonist, Riyaz. Riyaz and his maternal grand-mother have their own share of complexities and demons to fight. The film exposes the unavoidable ordeals laced with an endearing sense of humour that never fails to bring a smile to one's face. This is an emotional tale with some comical twists and turns that reveals a truly lovable side of Mammo as she tackles her ongoing struggles.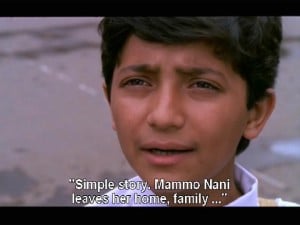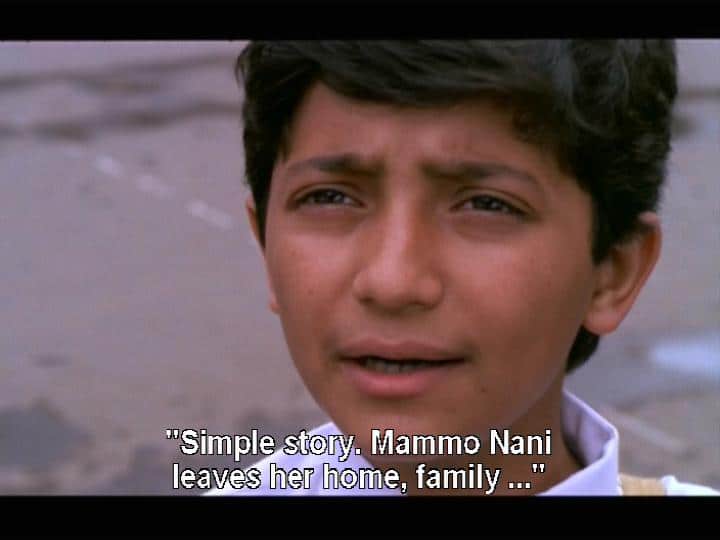 The film eventually reflects on the heart-wrenching "truths" often and always faced by the estranged, post-partition. It relives the similar pain of being torn away from one's roots again and again; despite one's silent or loud protests against situations beyond control. It makes one realize the value of something which is often taken for granted until it is lost or gone for good. Above all, the film manages to celebrate the spirit of an aging yet zealous woman with a never-say-die attitude as she ultimately proves a point – everyone returns to their roots and rightly so.
***NOTE: Make it a point to give this a listen, the beautiful Ghazal – 'Hazar Baar Ruke Hum' by Jagjit Singh. A haunting tune that tug at heartstrings. 
AWARDS
National Film Award for Best Feature Film in Hindi in 1995
Farida Jalal won Filmfare Critics Award for Best Performance
Surekha Sikri won the National Film Award for Best Supporting Actress
REFERENCE
Wikipedia – Mammo (1994)
YOUTUBE
Mammo (1994) trailer is available for free viewing on YouTube.