Jubilee (2023) is a Hindi period drama web-series directed by Vikramaditya Motwane. Set in the early days of 1947, the film traces the path of Hindi Cinema from the days when talkies have become a norm and the Studio was the king. The concept of Superstar actors was yet to arrive and as the nation was going through the biggest upheavl in its modern history, so was cinema, on a cusp of a major change. The film features Prosenjit Chatterjee, Aparshakti Khurana, Aditi Rao Hyadari, Sidhant Gupta, Wamiqa Gappi and Ram Kapoor in prominent roles.
Cast
Prosenjit Chatterjee – Shrikant Roy
Aparshakti Khurana – Binod Das
Aditi Rao Hyadri – Sumitra Kumari 
Sidhant Gupta – Jay Khanna 
Wamiqa Gabbi – Niloufer Qureshi 
Ram Kapoor – Shamsher Singh Walia 
Shweta Basu Prasad – Ratna Das 
Nandish Sandhu – Jamshed Khan 
Arun Govil – Narain Khanna 
Sukhmanee Lamba – Kiran Singh Sethi 
Crew
Direction – Vikramaditya Motwane 
Story – Hartej Sawhney, Nishant Agarwal 
Screenplay – Atul Sabharwal 
Music – Amit Trivedi
Cinematography – Pratik Shah
Editing – Aarti Bajaj
Production – Dipa De Motwane
Synopsis
** May contain spoilers ** 
As India crosses through its final month before independence and an era of great turbulence and bloodshed, Srikant Roy – filmmaker and the owner of Roy Studios  in Bombay – is on a lookout for a new face of his upcoming film, Sunghursh. The anti-hero protagonist of this film, a first in those days, goes by the name 'Madan Kumar', and Mr Roy has already found his hero in Jamshed Khan, a dashing theatre artist from Lucknow. However, there are two small problems – Jamshed Khan is interested in doing theatre and plans to work with Jay Khanna of Karachi's Khanna theatre; and he is having a whirlwind affair with Sumitra Devi, a famous actress, and Mr Roy's wife. 
A shrewd businessman, Mr. Roy, is determined not to lose either his wife or his hero. He sends Binod Das, his trusted lieutenant, to Lucknow to bring both Jamshed Khan and Sumitra Devi back. However, destiny has other plans. As Lucknow is engulfed in the flames of communal riots, the lives of Mr. Roy, Jamshed, Binod, Sumitra, Jay and Niloufer get entangled in a story that is as dark as it is tragic.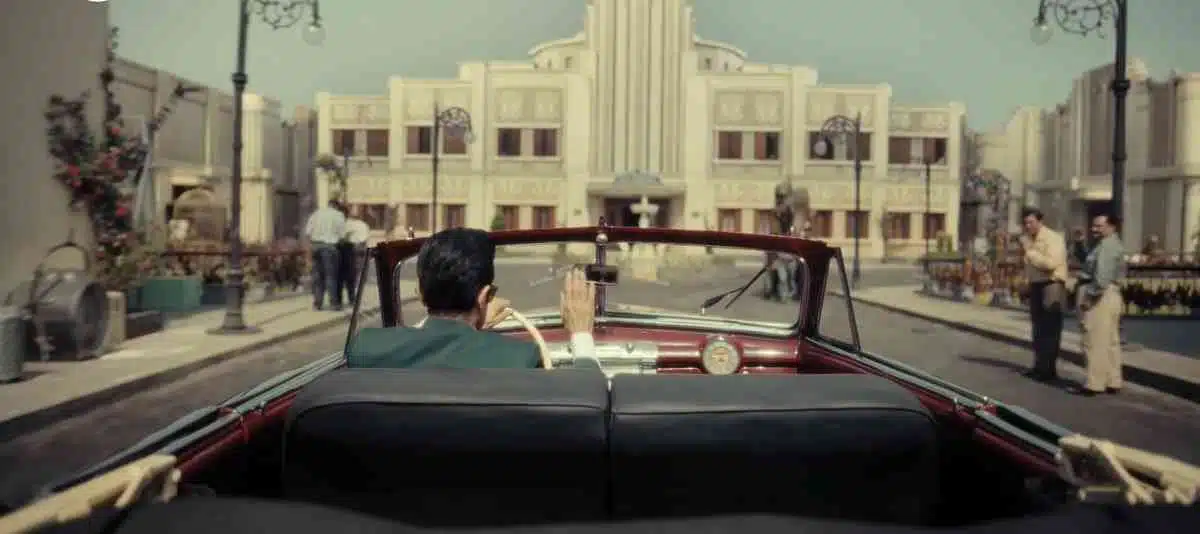 I would refrain from giving away any more of the plot because the series has arrived only this month and can do with less spoilers. However, I cannot stop myself from writing about it, for the feeling of awe that it engulfed me with, while I was watching, requires an outlet. 
Jubilee is an ode to the genesis of the Hindi Cinema, set during the days when Talkies have become a thing and Studio stalwarts like Himanshu Roy and Devika Rani ruled the Box Office. The film is a constant deja vu for an avid follower of cinema, one keeps finding glimpses of their favourite stars from the past in the narrative and the songs. It is a bittersweet nostlagic feeling that brings a lots of ohs and aahs as you walk in the corridor of the studios with the director. There is a striking resemblence to the reel and real lives of many actors and actresses of those days, however Motwane choses to remain subtle. 
Unlike some other works on cinema, Jubilee refuses to make a caricature of the past. Instead, it decides to look at the evolution from a very sharp lens, almost from the perspective of time itself. The journey the industry from the Studio as the king to the rise of the Super Star is so sophisticated that it gives a peod epic proportion to the film. It almost takes a noir approach, but decides to stay more sepia than dark. The lives of the protagonists are more intriguing than their films. There is rise and fall of destinies, shifting loyalties and a general malice of the heart in the middle of all the glitz that showbiz offers. However, the story does not yield to the darkness. It retains a human heart till the end, a heart that dreams, that yearns, and that breaks into a thousand pieces. 
Jubilee was not an easy series to make and could have easily gone down the slippery slope of medicority that happens so very often. However, the way Motwane pulled it off deserves a standing ovation. He knows his craft and that shows in the work. Hats off!
The music of Amit Trivedi is beautiful and suits the melody of the era. Pratik Shah's cinematography has moments from Raj Kapoor and Guru Dutt and that should be taken as a compliment. Editing could have been crisper but thats just minor nitpicking. 
The actors knew they were giving the performance of their life time and that shows in the earnestness. Aparshakti, Sidhant, and especially Wamiqa shine in their roles. Prosenjit gets a role that he was custom made for him. Aditi Roy Hyadri does justice to her role, even if it is a bit single dimensional. It is a delight to watch Arun Govil after what seems like decades. Even the relatively minor actors like Arun Arora manage to leave a mark. 
You know you have watched a work of art very significant when it makes your heart ache. The ache remains long after the credits have rolled in the last episode. You go away with a piece of Madan Kumar, Mr. Roy, Sumitra Devi, Jay Khanna, and Nilofuer with you. You leave with a feeling of "what if". Yun hota to kaisa hota? 
Jubilee (2023) Trailer On YouTube