An illustrious name in the Indian Art House Cinema is that of Kamal Swaroop. He not only directed movies but directed radio and TV shows and wrote scripts for films. The majority of his work had been around documentaries and featured films. Some of his famous work includes Rangbhoomi, Om Dar Ba Dar and The Battle of Banaras.
Kamal Swaroop gained a lot of popularity not only as a director but also as a writer. He even wrote the dialogs of Salaam Bombay. Overall, Kamal Swaroop had a successful career until now. His most recent work was Pushkar Puran, released in the year 2017.
Life and Early Work
Kamal Swaroop was born in Jammu and Kashmir. His father worked as a teacher in Kashmir and his mother was a housewife. In the early years itself, his family moved to Rajasthan. He received his graduation degree from Ajmer. Since a young age, Kamal was interested in Filmmaking, and that is the reason why he moved to Pune to learn film directions.
Kamal Swaroop also worked at Indian Space Research Organization (ISRO) for a short time. After graduating from the Film and Television Institute of India (FTII), he started his career as a film director. He also worked with Richard Attenborough and this project helped him in enhancing his horizon. 
Filmmaking
Kamal Swaroop had been reasonably interested in the documentaries. He directed several documentaries, one such film being Rangbhoomi, based on the life of Dadasaheb Phalke. This film received a Golden Lotus Award. Another film that gained a lot of popularity was Om Dar Ba Dar. Kamal once shared that he got an idea of this movie while he was shooting for Gandhi. This movie had a unique story, and the film got a great response globally.
Probably, the last documentary that Kamal worked on was The Battle of Benaras. This movie was based on a book titled Crowd and Power, and the story highlights a political battle and journey of Prime Minister Narendra Modi. The Indian Audience loved the movie about the poll battle.
The Cinema of Kamal Swaroop
The first movie that Kamal Swaroop directed was Dorothy (1974). This was a good start for Kamal, and he started working on his next project, which was Ghashiram Kotwal (1976). In 1982, he worked as an assistant director for an international director while they were making Gandhi (1982). Kamal Swaroop also directed Om Dar Ba Dar in 1988. Later in 2004, he directed When the Image Meets the Shadow. After all the fame, he directed Bandish (2007), Rangbhoomi (2013) & Battle for Benaras (2014). The last movie directed by Kamal was Pushkar Puran, and it was released in the year 2017. He received many national awards for his work as a director. 
Kamal Swaroop on Art House Cinema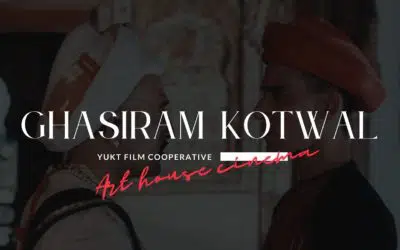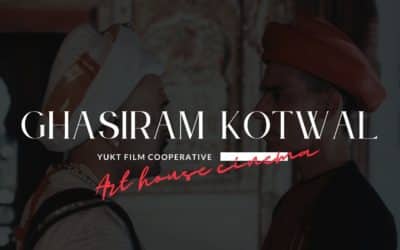 Ghasiram Kotwal is a 1976 Marathi Film based on a play of the same name by Vijay Tendulkar. The film was the first venture of YUKT Film Cooperative, an experiment in collective filmmaking and was made by a group of filmmakers – K. Hariharan, Kamal Swaroop, Mani Kaul, and Saeed Akhtar Mirza.


Om Dar Ba Dar is a 1988 Hindi film directed by Kamal Swaroop. This film is considered a pioneer in the Indian Avant Garde cinema and has become a cult classic with a section of viewers with its post modernist approach extending to absurdist.