Katntilal Rathod was a well-known painter, animator, and filmmaker known for films like Kanku (1969), Parinay (1974), and Ramnagari (1982).
Rathod was also well known for making award-winning documentaries like Cloven Horizon (1965), Strife to Stability (1969), and Sardar Vallabhbhai Patel (1976). Notable among his short films are Withering Flowers (1960), Peace-Time Armada (1967), Pinjra (1968), and Tested Berries (1973).  
Born on 12th December 1924 in Raipur, India, Rathod studied Art at Shantiniketan. Later, he went to the Art Institute of Chicago, the USA where he got exposure to the films of Norman MacLaren whose work greatly influenced him. On his return to India, he dedicated himself to making experimental films, including animation and documentaries.
Rathod received many national and international awards for his feature films and documentaries. His documentary Cloven Horizon was judged as the best documentary film in 1965. That same year he won the National Award for the Best Children's Film, Adventures of a Sugar Doll. More awards followed in 1969 with Kanku, which won the Best Regional Film in Gujarati. It was widely acclaimed by critics in various film festivals across Europe, America, and Asia.
Kantilal Rathod passed away on 28th September 1988. 
Kantilal Rathod on Art House Cinema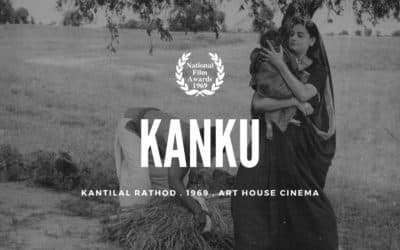 Kanku is a 1969 Gujarati film directed by Kantilal Rathod. Based on a short story by Pannalal Patel, the film tells the story of a young widow and her struggle in a traditional society. It received the national award for the best Gujarati film in 1970.