Ankur is a 1974 Hindi film directed by Shyam Benegal. This film analyzes the human character, changing loyalties, vices of nature and voices of silent rebellion in its 125 minutes. Ankur was highly acclaimed and went on to win 43 prizes including the Golden Bean at the 24th Berlin Film Festival. It also happens to be the debut feature film of Shyam Benegal as well as the protagonists Anant Nag and Shabana Azmi.
Cast
Shabana Azmi —————— Lakshmi
Sadhu Meher ——————- Kishtayya
Anant Nag ———————– Surya
Khader Ali Beg —————— Surya's father
Priya Tendulkar —————- Saru
Story
Lakshmi lives in a village with her husband Kishtayya, a deaf-mute potter. Kishtayya is an alcoholic and Lakshmi's only desire in life seems to be to have a child.
Surya is the son of the village Zamindar who has completed his studies in the city. Pratap is the illegitimate son of Surya's father from his mistress Kaushalya. Surya was forced into a child marriage with Saru by his father. However, he must wait as Saru is still a minor, and must come of age before their marriage can be consummated.
Surya's father forces him to take over as the administrator of the estate. He lives a rundown farmhouse, aided by Lakshmi and Kishtayya as his servants. His ways are arrogant and unconventional and some of those become controversial like having Lakshmi, who is from a lower caste, cook meals for him. It particularly upsets the village priest who earlier used to deliver food to the household. Rumours start in the village including one claiming that Surya is having an illicit relationship with Lakshmi. Surya on his part does make overtures towards Lakshmi but fails initially.
One day, Kishtayya is caught stealing toddy from Surya's palm grove. He is publicly humiliated and as a result of which, runs away from the village. Lakshmi is now left alone and comes to live with Surya. Gradually they develop a physical relationship, notwithstanding the rumours in the village.
Things take a turn when Saru arrives in the village to live with Surya. She develops an instant dislike for Lakshmi and manages to sack her claiming that she is no longer able to work. Surya has to choose between Lakshmi and Saru and he decides to let Saru have her way.
After sometime Kishtayya, having gotten rid of his alcoholism returns back to the village. Lakshmi is now heavily pregnant with Surya's child but is accepted by her husband who is overjoyed to know about her coming motherhood. Next morning he goes towards Surya's house with the intent of asking for work. However, the guilt conscious of Surya makes him think that Kishtayya is coming to attack him in revenge for his earlier humiliation. He has his men overpower the poor man and starts whipping him mercilessly till he falls down in pain. Seeing this, Lakshmi runs to save her husband. She starts cursing Surya as he cowers down inside his house. As the horrified gathering disperses, Lakshmi slowly walks back with a broken Kishtayya; a small child, who usually helps the master fly kites, throws a stone at Surya's window and smashes the glass-panes – the seedling of revolt.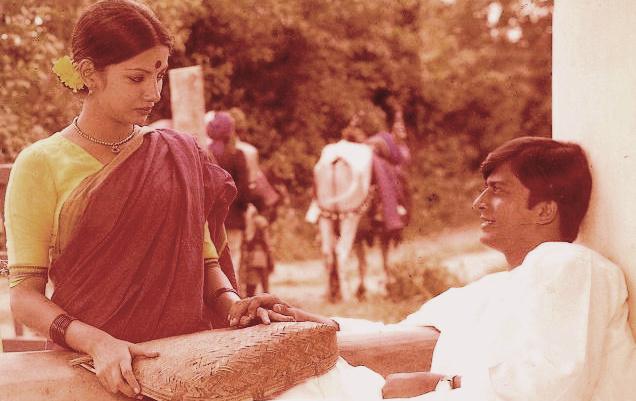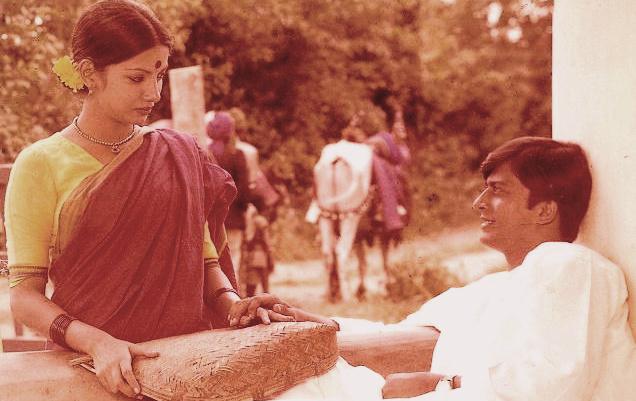 Commentary
Ankur is arguably one of the best films to come out of the stable of Indian cinema. It is sensitive, thought-provoking and an immensely powerful. It addresses several social issues like the treatment of dalits and women, zamindari, religion without resorting to drama and preaching. The various themes of family, love, human emotions and weaknesses and society are so beautifully interwoven that it is impossible to think of a better way in which the film could have been made. The treatment is precise, minimalist and has every bit of realism for which Benegal is renowned.
For every student of cinema, Ankur is a classic example of a film which brings out the many layers of its characters with such perfection. The film focuses on its protagonists, their complex and sometimes self-centric needs and desires that happen as if in their own world, insulated from outside influence and evolving in their own microcosm.
Here we have Surya, the bored youngster from the city who as lived his life under the shadow of his domineering father, being made to live in a village where he does not belong. He is arrogant, jealous, haughty, rebellious, coward, sensitive and selfish, all at the same time and the various shades of his character have been beautifully brought forward, both in Anant Nag's powerful acting and Benegal's able direction.
Shabana Azmi was very new to the film industry at that time and Benegal was initially apprehensive about casting a modern girl like her in the role of a Dalit village woman. However, she adapted to the character so well that in the film she becomes Lakshmi herself.  She remains worried for her husband and the advances from Surya, looks fragile like a china vase but at the same time, has the immense strength of an Indian woman. She looks extremely beautiful without giving the slightest hint of her urban-ness.
Sadhu Meher in the role of a simple-minded Kishtayya fits the block perfectly. Due to is a physical handicap, he is the most vulnerable of the lot. One cannot help but feel sympathy and pity for him, and a stab of revulsion when he is beaten up by Surya. This is a much stronger role that he got when compared to Bhuvan Shome. He in fact got the National Award for this film.
Ankur is an engrossing film and stays with you long after credits have rolled. For the uninitiated in Indian Art Cinema, there is no better place to start with…
Awards
National Film Award for Second Best Feature Film(1975)
National Film Award for Best Actor: Sadhu Meher (1975)
National Film Award for Best Actress: Shabana Azmi (1975)
Berlin International Film Festival: Golden Berlin Bear: Nominated (1974)
Trivia
Ankur was Shyam Bengegal's first film as a director and writer
It was also the debut film of Shabana Azmi and Anant Nag
Reference
Ankur On YouTube