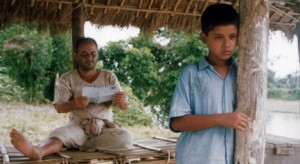 Xagoroloi Bohudoor is a film by Jahnu Barua, a multi-award-winning filmmaker from Assam in India. Also named It's a Long Way to the Sea, it won India's Golden Lotus award for best director in 1995, and many other international awards.
CAST
Bishnu Kharghoria as Powal, the old man

Arun Nath as Homanta, Powal's son

Kashmiri Saikia as Runumi

Miren as Land agent

Shusanta Barooah as Hkhuman, the boy
SYNOPSIS
Powal is an ageing boatman who is the sole caregiver of his grandson Hkhuman. In Nemaguri village, his forefathers have been ferrying people to and fro from the river Dihing. The primary focus is on the genuine dilemma faced by Powal for survival as talks of a new bridge being built across the river become quite prominent.
This story also highlights how Powal's continuous attempts to stay connected with his kin in the city eventually ends up in an unsettling revelation about the fragility of relationships in the 'modern' day and age.
It captures the tumultuous life of any and every rural man (in this case, Powal the boatman) who ultimately ends up paying a price at the cost of development.
OBSERVATION
Translation:
"Drop after drop from the clouds make the sea.
Drop after drop gets lost in the sea."
There is a particular portion where Hkhuman recites this poem into the fading backdrop inside a gloomy, lantern-lit hut as Powal gravely stares at the worn sketches of a boat, the sea and a bridge. It poetically discloses the inner turmoil of this old man who feels a sheer sense of being lost amidst a lot of problems that appears to him as vast as the never-ending sea. The film is draped with several metaphorical gestures that reflect upon the rising predicaments in the rural area; as well as subtly questioning the lack of morality and growth of insensitivity in every sector of one's life.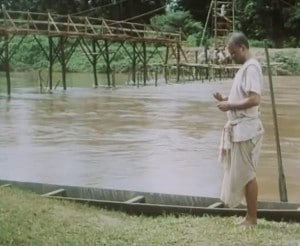 It is a modest Assamese tale which highlights the ordeals that the rural man faces in the name of development and modernization. For example, it touches on issues where the government hardly shows care or concerns in providing any alternative options to the poor.
However, not all is hopeless or grim – there is always that glint of hope caught in Powal's weary eyes or a spurt of a dream in realization through the eyes of our endearing Hkhuman.
We, the audience want to believe that it is all attainable with an indomitable will, no matter how far away from one's grasp it may seem. Almost like their river on its way to meet the sea.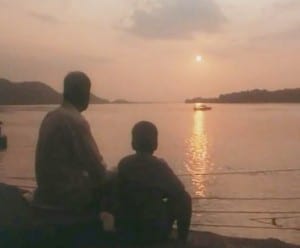 Jahnu Barua's use of natural sounds and surroundings for a greater impact; along with modest treatment of his characters is raw in a refreshing sense-making everything and everyone seem more real. Consequently, his film Xagoroloi Bohudoor takes one back to films such as Pather Panchali by the great Satyajit Ray.
Baruah has a knack at capturing crucial moments in such a subtle and simplistic manner that it contributes to the flow of the film. And, instead of spoon-feeding his audience, there are several instances where Baruah practically underplays some of the most significant scenes urging the viewer to make an effort to unveil its deeper message for a better understanding.
AWARDS
National Film Award for Best Feature Film in Assamese (1995)

GETZ Prize( 31st Chicago International Film Festival )

Pri Do Public Award (Best Film: Nantes Film festival, France)

Best Director (India's Golden Lotus award 1995)
REFERENCE
Wikipedia – Xaoroloi Bohudoor
YOUTUBE
Xagoroloi is available for free viewing on YouTube.