Swami is a 1977 Hindi language film directed by Basu Chatterjee and has Shabana Azmi, Girish Karnad, Vikram, and Utpal Dutt in lead roles. Based on a novel by Sarat Chandra Chattopadhyay, Swami tells the story of the intelligent and vivacious Saudamini who feels let down by her marriage to a simple man.
Cast
Shabana Azmi – Saudamini 'Mini'
Girish Karnad – Ghanshyam
Vikram Makandar – Narendra
Utpal Dutt – Saudamini's Uncle
Sudha Shivpuri – Saudamini's mother
Shashikala – Ghanashyam's step-mother
Preeti Ganguli – Charu
Dheeraj Kumar – Nikhil
Ritu Kamal – Shobha
Cast
Direction – Basu Chatterjee
Story – Sarat Chandra Chattopadhyay
Screenplay – Manu Bhandari, Basu Chatterjee
Cinematography –  K.K. Mahajan
Music – Rajesh Raushan 
Lyrics – Amit Khanna
Production – Jaya Chakravarty
[With excerpts from the article 'The Last Minute Happy Ending' – Ram Mohan, 1978] 
Swami is based on Sarat Chandra Chattopadhyay's Bengali novel by the same name, set in the early 20th century. The word "swami" could be translated as 'lord and master', not in the sense of a tyrant but as the traditional master of a Hindu household, based on the concept of an ideal husband: gentle and protective, dependable, and considerate, the perfect grihastha or householder.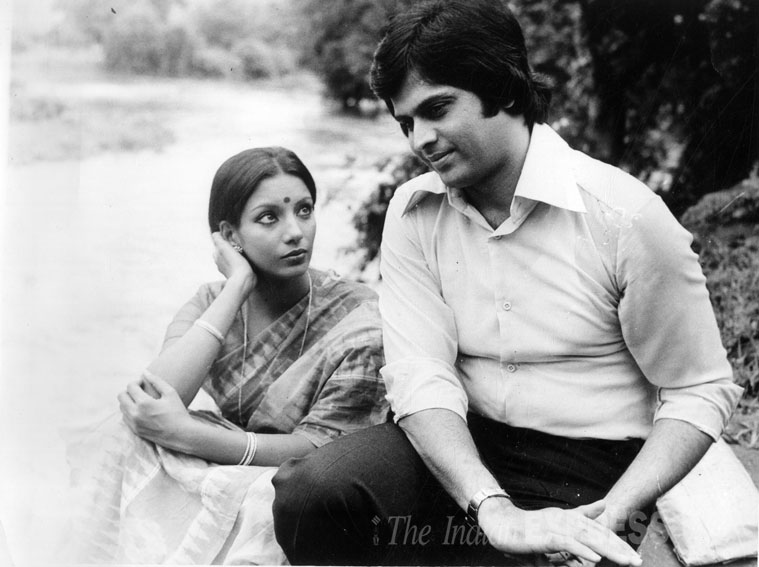 Saudamini is an educated girl, a rare phenomenon at the turn of the century. Her uncle and guardian, who has imbibed liberal ideas of the time, offers her a measure of freedom that girls of that time were largely denied. Her widowed mother is critical of the girl's headstrong nature; she considers the uncle's handling of the girl indulgent and irresponsible, particularly with regard to marriage.
Saudamini is romantically involved with Narendra, the boy-next-door who is pursuing studies in the nearby city of Calcutta.
Under repeated prodding from the mother, the uncle sets out to inspect a prospective groom, Ghanshyam. Though a widower, Ghanshyam is a respectable man who is considered eligible in the marriage market, as the eldest son of a well-to-do business family.
Unfortunately, the uncle suffers a heart attack while coming back. As he lays dying, he pleads with his niece to accept Ghanshyam who he feels, will make an ideal husband for her. Saudamini, who has been given her way thus far, suddenly finds the reins drawn in.
In a desperate bid for freedom, she writes a letter to her lover in Calcutta, asking him to come to her rescue. He does not turn up, and she is left with no choice.
In her new household, Saudamini Ghanshyam's shrewish stepmother and step-family  – a married brother, and an unmarried sister. Forced into an unwanted relationship, she feels alienated, not only from the family but also from her husband. Ghanshyam, sensing her state of mind, does not force his attentions upon her.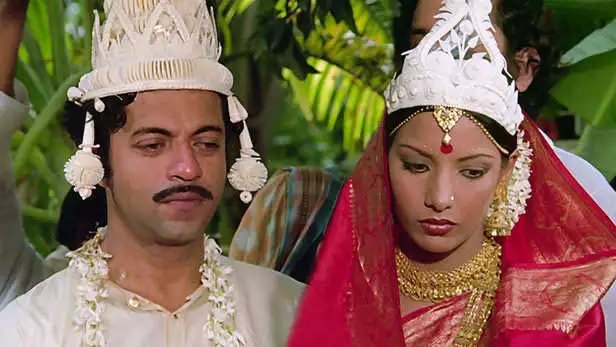 Slowly Saudamini observes how Ghanshyam, though he is the actual breadwinner in the family, is treated with neither respect nor care. Even the servants ignore his request for water to wash with or for food, while the stepmother lavishes love and sweetmeats on her own son. Ghanshyam seems to accept this situation with, what may be called, gentle stoicism.
Saudamini finds her attitude changing to one of concern for her husband and decides to stand up for his rights.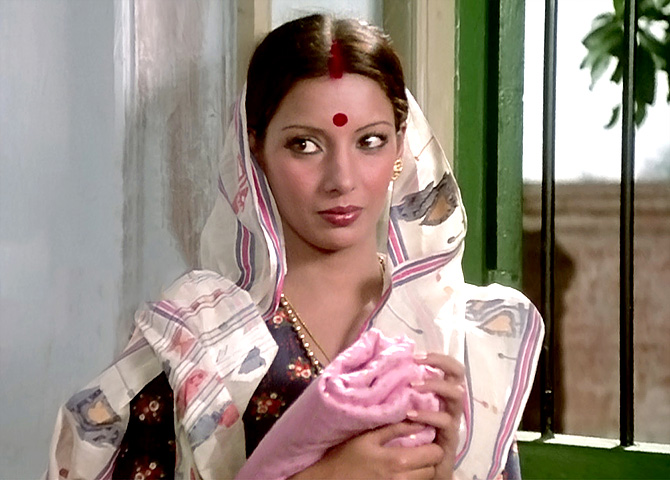 When a prospective bridegroom for Ghanshyam's stepsister ridicules the poor girl, at the same time demanding an exorbitant dowry, Ghanashyam puts his foot down for the first time. She is not a commodity on sale in the market, he says in defiance of his stepmother, who is only too eager to rid herself of her burden. This is a key incident in Saudamini's changing attitude towards her husband.
Just as prospects seem to be growing pleasant, Narendra enters Saudamini's life again.
Narendra pleads with Saudamini to come away with him, leaving her in a state of conflict. Their tete-a-tete is discovered by the wicked stepmother, who accuses her of infidelity and forces the situation to a point where Saudamini has no choice but to leave.
However, there is still one last twist remaining.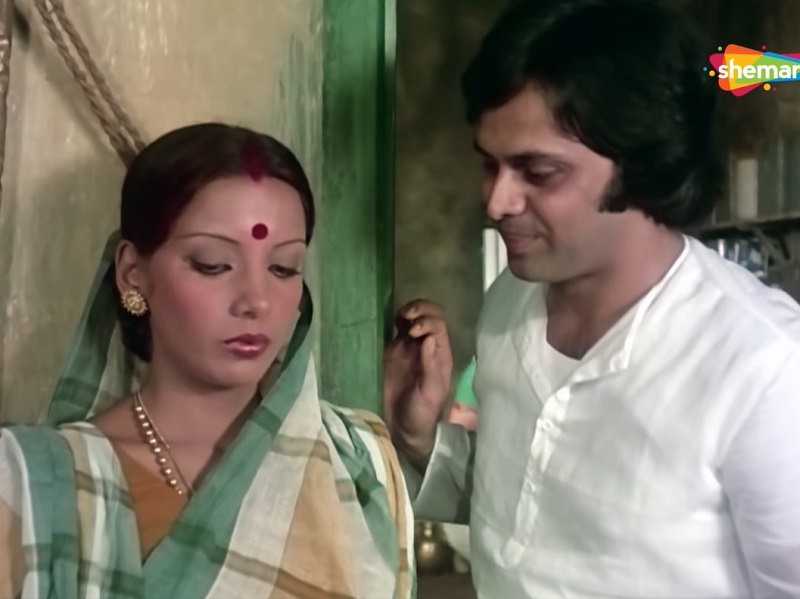 Waiting for the train at the railway platform, Saudamini recalls the simplicity, gentleness and tolerance of her husband. As she loses herself in memories, her eyes well with tears.
The train arrives.
But so does Ghanashyam…
[With excerpts from the article 'The Last Minute Happy Ending' – Ram Mohan, 1978] 
In a commercial or popular film world, that swears by the star system and masala entertainment, Basu Chatterjee happened to be a phenomenon. He showed that box-office success does not depend on these factors alone. Where popular cinema lumbers along with its well-trodden plot, Basu breezed by; if the familiar formula stifled, then he was like a breath of fresh air.
By and large, Basu deals in pre-marital and marital romance, its pleasures, and its complications, and Swami is one such instance.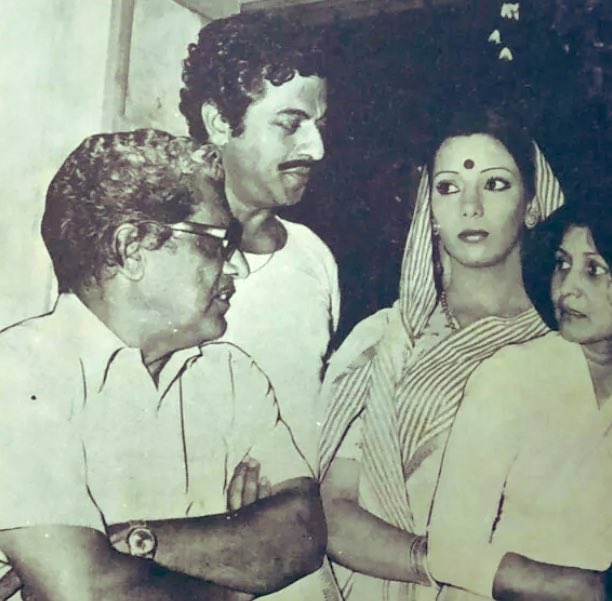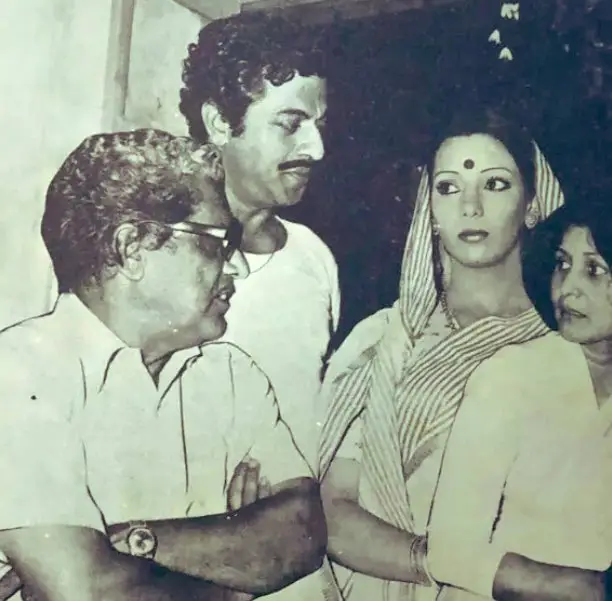 Basu Chatterjee used elements of popular cinema, such as song and dance sequences, romance, and an occasional star cast. However, where he scored was in the choice and treatment of his stories, slender storyline regardless. His stories dealt mainly with the middle-class milieu and the characters and situations in his films were such that the middle-class audience identified with them readily.
His boy meets girl not against contrived picturesque backdrops, through a screen of hill station mist, or flitting around flowering shrubs, but in everyday surroundings, the city street, the bus stop, the office canteen, a real home.
Basu specialized in last-minute happy endings, so that the audience may heave a final sigh of relief and go home, girl safe with the boy and their dreams secure. He seemed to have set himself a framework within which he operated unpretentiously, with an eye for smaller detail, and a sense of humor which the popular cinema lacked.
Awards & Recognition
Filmfare Best Actress Award (1978) – Shabana Azmi
Filmfare Best Director Award (1978) – Basu Chatterjee
Filmfare Best Story Award (1978) – Sharat Chandra Chattopadhyaya
Parts of this article were first published as 'The Last Minute Happy Ending' by Ram Mohan, 1978