Gaman is a 1978 Hindi film made by Muzaffar Ali and has Farooq Shaikh and Smita Patil in main roles. The film is a take on the lives of migrants in big cities, as seen from the eyes of a young man from Uttar Pradesh who has to leave his wife back home and come to Bombay in search of a better life and ends up as a lonely taxi driver.
Gaman was the directorial debut of Muzaffar Ali who went on to make Umraon Jaan (1981). The film garnered critical acclaim and won the National Award for its music which resonates with the dispossessed even today.
Cast
Farooq Shaikh – Ghulam Hasan
Smita Patil – Khairun
Jalal Agha – Lallulal Tiwari
Gita Siddharth Kak – Yashodhara
Nana Patekar – Vasu
Sulabha Deshpande – Vasu's mother
Arun Joglekar – Ganpat
Amir Banu – Amma
Arvind Deshpande 
Bombay – Self
Crew
Direction – Muzaffar Ali
Story – Hriday Lani
Cinematography – Nadim Khan
Editing – Jethu Mundul
Music – Jaidev 
Lyrics – Shahryar, Makhdoom Mohiuddin
Gaman is the story of Ghulam Hasan, a young man from Kotwara, a village in Uttar Pradesh; who has little education, less land, and no opportunity in his own village. Like countless others before him, he hears the call of the city and sets out, for better or for worse, to Bombay, the city of dreams. He leaves behind his old mother and young wife, Khairun.
With his departure, the lives of these women come to a standstill, transformed into a life of endless waiting and yearning. The only events of any significance are the periodic arrival of letters and money orders from Bombay.
In Bombay, Ghulam finds refuge with his friend from the village, Lallu Lal Tiwari who is a taxi-driver and is quite a colorful character who has completely come to terms with the city life. He helps Ghulam become first a taxi-cleaner and then a taxi-driver like himself. In spite of his best efforts, he is unable to save enough money to go back and visit his family. He keeps plying his taxi along roads leading to nowhere, vivid memories of his wife keep flooding his mind.
Tiwari's life is not a bed of roses either, in spite of having settled in the city for years. He has a Maharashtrian sweetheart, Yashodahara, but is unable to rent a decent accommodation and lives in a shanty, an illegal construction soon to be demolished by the Municipal Corporation. To add to the woes, Yashodhara's family is against this relationship and things have become very stressful.
Things take a tragic turn when Tiwari and Yashodhara are murdered by her family. Shaken up, Ghulam decides to bid adieu to Bombay and leave for his village but keeps delaying. The film ends with Ghulam Hasan standing at the grilled gate of the V.T. Station, staring wistfully at the trains that would take him home, unable to leave.
[With notes from Sai Paranjpye and Farooque Shaikh – DFF and NFAI archives] 
"A new tribe is born in our country. The tribe of the dispossessed, consisting of people with a new non-culture all their own. The number of this tribe are swelling in an alarming manner. Every day, millions of villagers having no control of their circumstances, flock to the big cities, dreaming of lucrative jobs and bright futures. They soon get swallowed in the mire and are lost to their homes and themselves forever."
[Sai Paranjpye]
Muzaffar Ali begins the narrative in the tranquil, picturesque village of Kotwara. The peace and sense of well-being of a village – until the landlord inevitably intrudes – is beautifully captured, making the later city scenes all the grimmer and more oppressive. Especially lyrical is the morning space between Ghulam Hasan and his bride when she comes to wake him up with a cup of tea. The scene is sheer poetry. When he has to leave home, there is no tearful farewell. The tragedy of their separation is therefore all the more poignant and heart-rending.
Tuesday, 28 February 1978
[Farooq Shaikh's Notes]
The Train – The shooting finished with a strange sensation, a feeling of apprehension, a feeling of love, a feeling of objectivity, a feeling which cannot be described, but it may unfold as we describe this process of work, a difficult task.
A stone comes and hits the glass window against which I sit, smashing it into bits. A shock. An injury escaped. A smashing visual.
Nadeem, "Why should this happen to this particular window of this particular train."
I decide to write.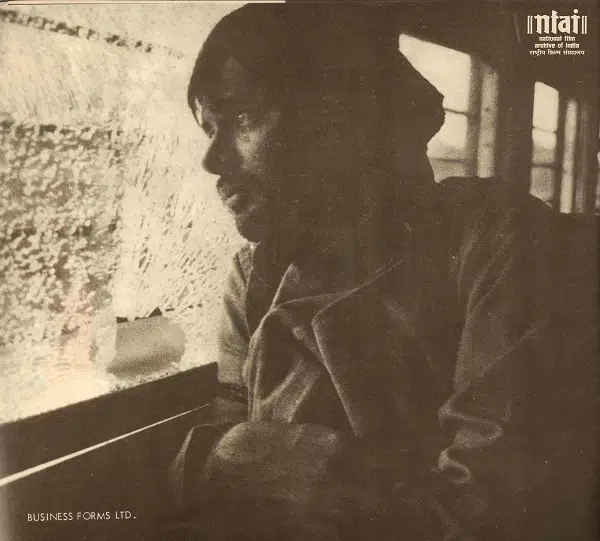 The main character of Gaman, Ghulam Hasan, stretches across the entire canvas of the film. He delivers and communicates reality in a very self-effacing yet convincing manner, demanding a very subtle and sensitive performance. The choice of the artist for this role was, therefore, one of the most important decisions connected with the film.
Kotwara, the village where Gaman was shot, appears so tranquil, peaceful, and unperturbed on the surface, that one could never imagine the tremendous wrenching apart, and dismembering of the social setup which is taking place below the surface. Very sad, but also very typical of rural India. It is a world going asunder.
14/2/79
Muzaffar Ali has a potent contemporary message to deliver and he does it with conviction. The minutiae, colors, and background to evoke the mood, atmosphere and emotion are used meticulously for the total effect. He gets admirable support from his cast especially Farooq Shaikh, Smita Patil, and Jalal Agha. Farooq acts with feeling and brings a rare distinction to the portrayal of Ghulam Hasan, a faceless man in the crowd. Smita in a small role achieves a lot with a mere sigh of a smile and rings true as the woman left behind.
Bombay, the main performer in Gaman, is remarkably shown and Muzaffar has managed to draw out different facets of its personality. It is the city of no return. A cave with footprints pointing only inwards. The footprints in this case belong to Ghulam Hasan. The unique indifference, the hectic pace, the bawdy humor, the hopelessness of life – Muzaffar has portrayed a lot within two short hours.
Gaman saw the coming together of brilliant poets like Shahryar and Makhdoom Mohiuddin on one side and the musical talents of composer Jaidev, Chhaya Ganguli, Suresh Wadekar, Hariharan, and Hira Devi Mishra on the other. 
While Chhaya Ganguli won the National Award for 'Aap ki yaad aati rahi', another song that has stayed in the collective memory of music lovers is 'Seene mein jalan', penned by Shahryar and sung by Suresh Wadekar. This song remains an anthem of a migrant in a big city like Mumbai, a place that one barely gets along with but cannot get rid of. Tainted with "greyish hues of hopelessness and futility", this song becomes more relevant by the day. 
A comprehensive music review of Gaman is available here. 
Awards & Recognition 
National Award for Best Music Direction (1978) – Jaidev
National Award for Best Playback Singing (1978) – Chhaya Ganguli