Basu Chatterjee was an Indian film director famous for his pivotal role in what came to be known as the Middle-of-road or Middle Cinema. His films were mostly about lighthearted stories of the Indian middle-class, often in urban settings, focusing on marital and love relationships. Some of his most famous films are Chhoti Si Baat (1975), Chitchor (1976), Rajnigandha (1974), Piya Ka Ghar (1972), Khatta Meetha, Swami (1977 film), Baton Baton Mein (1979), Shaukeen (1982), and Chameli Ki Shaadi (1986). He also experimented with films that dealt with moral and social issues, Kamla Ki Maut (1989) being the most remarkable of this genre. 
Chatterjee also worked in Bengali Cinema and made films like Hothath Brishti (1998), a joint venture between Bangladesh and India. He was also a screenwriter of great repute. 
Life and Early Work
Basu Chatterjee was born on 10th January 1930 in a Bengali family in Ajmer, Rajasthan. He started his career as a cartoonist and an illustrator. His work was published in a weekly tabloid. Believe it or not but he worked in the same role for 18 years before he decided to switch his career. This is when he decided to transit into filmmaking. In 1966, he got a chance to assist Basu Bhattacharya, and later on, this formed the foundation of his career as a director.
Filmmaking
He directed his first movie in the year 1969 and it was Sara Akash. For this movie, he also received a Filmfare Award. Filmmaking career of Basu Chatterjee is not just restricted to Hindi Movies but he also directed some Bengali Movies. This list includes Hochcheta Ki, Hothat Brishti, and Hothat Shie Din.
Following the trend of his films, it can be confirmed that he majorly made movies that were about the stories of middle-class families. The audience was able to connect to the subject of the movies because of this. The stories of his movie revolved around the love relationship and marital relationship. He also directed Kamla Ki Maut and Ek Ruka Hua Faisla. These movies slightly deviated from the subject as they were about some of the social issues of that time. It can be said that one of the reasons for his success was the fact that his audience was able to connect with his movies.
The Cinema of Basu Chatterjee
Along with Hrishesk Mukherjee, Basu Chatterjee was a torchbearer of light-hearted, entertaining, middle-class family dramas that offered a parallel narrative to the mainstream Angry Young Man films on the one hand and the radically experimental New Wave Cinema. The reason it has held so well is that it is real, a part of the families and relationships of the audience. While filmmakers showed dreams, he showed them a mirror image of their own lives. 
He directed a total of 40 movies, starting with Sara Akash in 1969 and progressed with time. For many of these movies, he was also the screenwriter and producer. Some of his popular work includes Jeena Yahan (1979), Kamla Ki Maut (1989), Swami (1977), Chhoti Si Baat (1976), Rajnigandha (1974) and Chitchor (1976). The last movie directed by him was in 2011 and it was a Bengali movie "Trishanku".
Basu Chatterjee also directed 7 TV series and they were all aired on DD National. The list includes popular series like Rajani (1985), Kakaji Kahin (1988) & Byomkesh Bakshi (1993 and 1997). His career had been remarkable and in 2007, he was honored with IIFA Lifetime Achievement Award.
Basu Chatterjee on Art House Cinema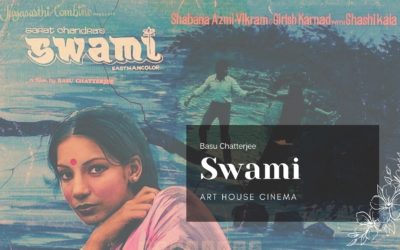 Swami is a 1977 Hindi language film directed by Basu Chatterjee and has Shabana Azmi, Girish Karnad, Vikram, and Utpal Dutt in lead roles. Based on a novel by Sarat Chandra Chattopadhyay, Swami tells the story of the intelligent and vivacious Saudamini who feels let down by her marriage to a simple man.
Ek Ruka Hua Faisla is a 1986 Hindi film directed by Basu Chatterjee. It is a remake of the 1957 English classic 12 Angry Men by Sidney Lumet. The film depicts an adapted closed room drama of a murder trial where one dissenting juror in a murder trial tries to influence the verdict with his personal prejudices and biases.