Mrinal Sen (1923-2018) was a celebrated Indian film director who made films primarily in Bengali and Hindi. He is considered as one of the pioneers of the New Wave Cinema in India, sitting in the august company of the likes of Satyajit Ray, Ritwik Ghatak, and Tapan Sinha. His films had deep political undertones, reflecting the socio-political turbulence of his time, and showed a remarkable Communist influence in line with his own political leanings. His most remarkable work is around the city of Calcutta, especially the Calcutta trilogy where he explored the people, social fabric, value system, and struggles of the city.
Mrinal Sen received as many as 18 National Film Awards, besides the Dadasaheb Phalke Award, a remarkable feat for a filmmaker. He was awarded Padma Bhushan, India's third-highest civilian honor, by the Government of India. The Government of France awarded him the Ordre des Arts er des Lettres, while Russia conferred the Order of Friendship upon him. His films won awards at major film festivals, including Cannes, Venice, and Berlin film festivals. He is considered among the greatest filmmakers in the world.
Life and Early Work
Mrinal Sen was born on 14th May 1923 in the town of Faridpur, now in Bangladesh. His father was a lawyer with considerable influence in the town. After finishing school, the young Mrinal left for Calcutta for higher studies.  He got involved with the cultural wing of the local Communist party while in college and remained associated with the Socialist ideology throughout his life, even if he was never a member of the party.
Sen's interest in films started in college, however, his job as a medical representative prevented him to stay in Calcutta for long or spend time on cinematic studies. Finally when he took up the job of an audio technician in a film studio in the city was when his foray into cinema truly started.
Raat Bhore (1955) was Sen's first film, a venture which in his own words was a total disaster. The film, despite having an impressive star cast, was a commercial and critical failure. Undeterred, he made Neel Akasher Neeche (1958), a film that salvaged his reputation as a filmmaker. However, it took him a while to find his touch, and the cinematic genius that the world knows today took his time to evolve. After progressively better films like Baishey Shravan (1960), Akash Kusum (1965), and Matira Manisha (1966), finally, it was Bhuvan Shome (1969) that established him as a filmmaker of reckoning and ushered in the New Wave Cinema.
Filmmaking
Bhuvan Shome was a commercial and critical success, bringing Mrinal Sen into the limelight. His next few films were directly political, woven in and around Calcutta. He went to make Padatik (1971), Calcutta (1972), and Padatik (1973), films that made his famous Calcutta trilogy.  This was followed by Chorus (1974), considered as one of the most experimental films, almost Godardian, ever made in India. A social satire made in a style reminiscent of Fellini, it deviated from all the conventions that were prevalent in that era, showcasing his confidence with the medium.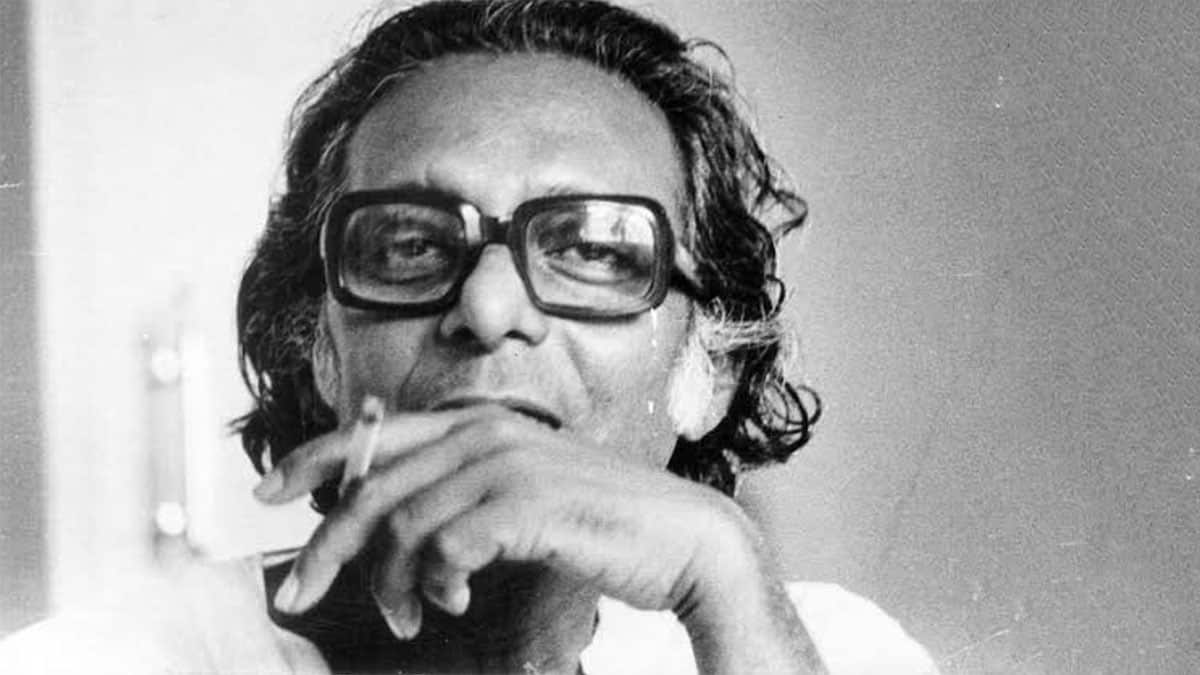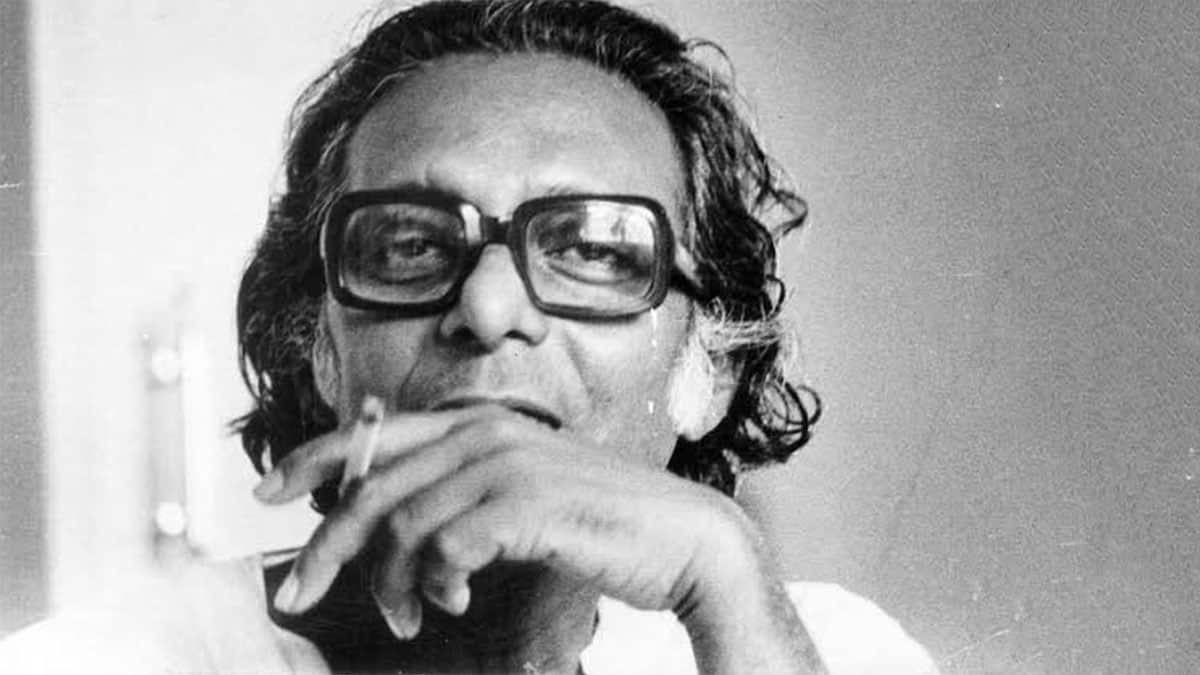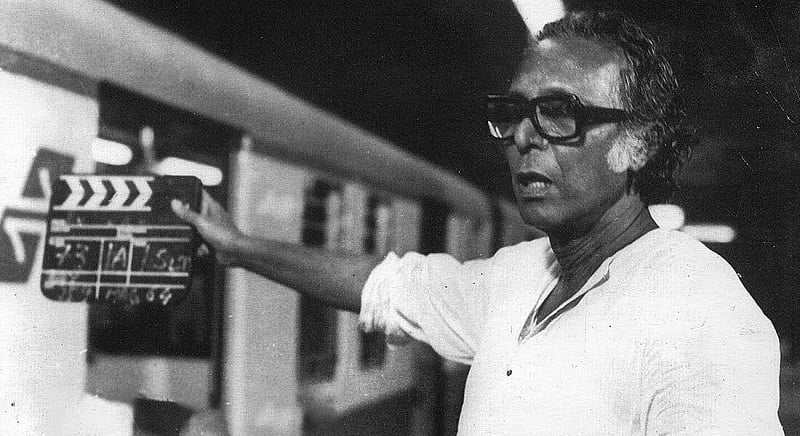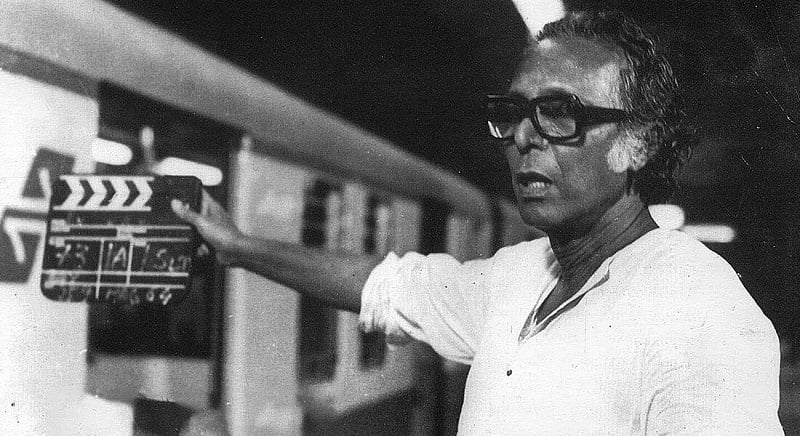 Post Chorus, Mrinal Sen turned inwards, creating memorable cinema that was deeply reflective and underlined his position as one of India's finest filmmakers. These films included Kharji (1982), Khandahar (1983), Ek Din Achanak (1983), and Genesis (1986).
He never stopped experimenting with the medium, slowly moving away from the narrative structure and work on very thin storylines. His last film, Aamar Bhuban (2003) came after a long gap when he was 80 years old. In 2005 he was awarded the Dadasaheb Phalke Award, the highest honor given to a filmmaker in India.
In 2004, Mrinal Sen's autobiography 'Always Being Born' was published, perhaps his last work before signing off from active public life.
The Cinema of Mrinal Sen
While the earlier films of Mrinal Sen were borne out of some of his earlier visceral experiences, most notably the death and cremation of Rabindranath Tagore, he slowly evolved into making cinema that was directly political. In what came to be known as the Calcutta trilogy, Sen used cinema to hold a mirror to the Bengal of that time, a faded shadow of its former glory, fraught with unemployment and restlessness. He portrayed the youth unrest, urban violence, and turbulence of the Naxal movement that was growing in Bengal, along with all its brutality.
In his later films, Sen decided to let go of any fondness for romanticism and chose the portrayal of stark reality, pushing the "syntax" of Indian Cinema further. Though his films were totally immersed in the politics of the era, they did not lose themselves in it. Sen never shied away from questioning the status quo, most vividly evident from Padatik. He reveled in being an iconoclastic rebel and refused to become the flagbearer of any ideology.
Mrinal Sen on Art House Cinema
Oka Oorie Katha (Eng: The Marginal Ones) is a 1977 Telugu film directed by Mrinal Sen. Based on an acclaimed story by Munshi Premchand, Kafan, the film is a scathing commentary on rural destitution and social injustice, projected powerfully through its protagonists and a sincere narrative.